Teen models, older children and anyone who feels they could do with a little pampering might like to give themselves a little rest and relaxation by creating a home spa.
Those of all ages who are involved in modelling will appreciate the importance of finding a little down time when they can concentrate on themselves and truly unwind.
Others with teenagers who are seeking distraction within the home might like to give them something to do while also creating a temporary area of calm within a lively household.
Decide where to create your home spa
This would usually be a bathroom or bedroom, but you need to consider how available the space is if there are lots of other people around, as well as how messy your spa might become.
Choose a space where you can pull curtains or blinds and perhaps create dim lighting with a night light or table light.
Start setting your spa space up
Find scented candles, essential oils and joss sticks to light: lavender can be a particularly relaxing fragrance, as can vanilla and sandalwood.
Lighting candles instead of using artificial light will also add to the ambience of your home spa.
Find accessories
Look out some clean towels, dressing gowns and slippers for anyone who wants to join in the spa time – this will all add to the authenticity of the experience.
Hair nets, shower caps and toe separators might all come in useful too, depending on what "treatments" you intend to include.
Think about the music
Find a bluetooth speaker or bring your CD player into the spa space. Keep this well away from water if you are in the bathroom.
Make a playlist from any ambient music or meditation tunes that you may already have – or browse YouTube for options. There are plenty out there.
Choose your treatments
Decide what treatments to give yourself or each other. These might include painting each other's finger and toenails, doing face or hair masks or giving each other facials.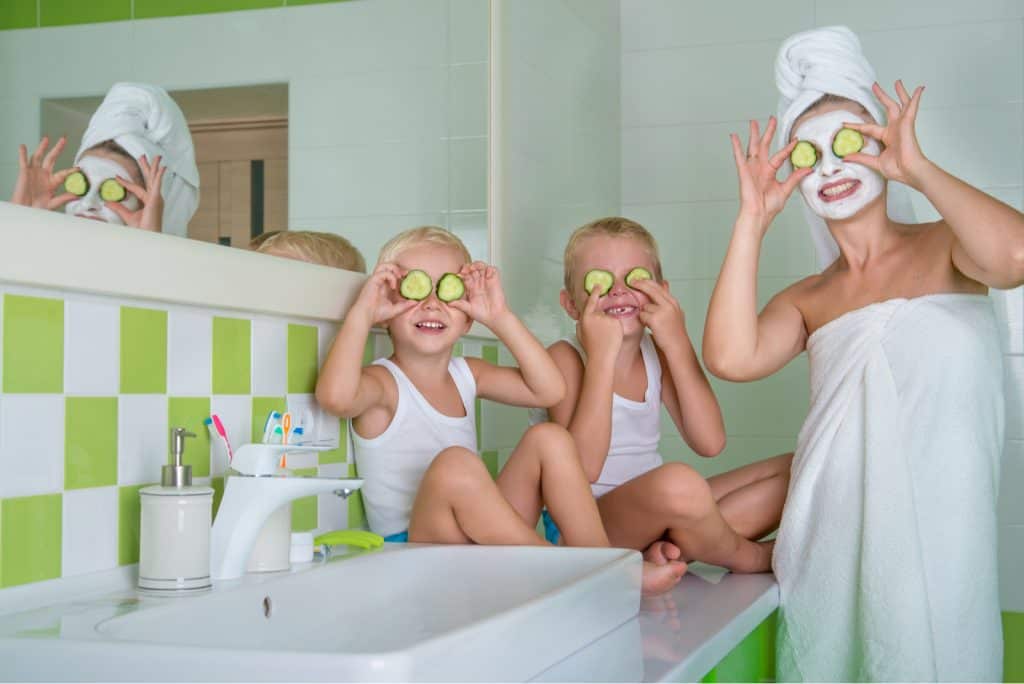 Use any ready-made products you have to hand or make your own using safe ingredients from around the house.
Try mixing honey, egg and cider vinegar, for example, to make a mask for dry hair or egg white and lemon if your locks tend to be greasy. Leave on for 30 minutes before rinsing.
Look online for face mask recipes too. Mashing half an avocado with a tablespoon of honey and the same amount of oats can leave your skin feeling soft and fresh, for example.
Have a final soak
If you have a bath, use it to soak your feet before giving each other a pedicure – if not, make a foot spa from a washing up bowl and warm water and bubbles.
Those with a bath can also then draw straws for a long, hot soak.
Fill the bath with hot water and a few drops of essential oil or bubble bath, light your candles and put some gentle background music on.
Treat yourself to a final few minutes of complete calm before returning to the fray feeling completely relaxed and ready to rejoin reality.