As all parents are very aware the school Summer holidays are just around the corner, with the warmer weather here and a break from the daily routine of school, is now the perfect time to get your family into modelling?
The Models Direct team speak to parents everyday keen to get their family or children with an agency. As parents ourselves we appreciate this is an exciting time, but can be daunting too and the MD team are here to help you every step of the way.
At Models Direct your child has their own dedicated Model Co-ordinator, for as long as you are with us. Together we build your child's modelling portfolio for clients to view!
Complete the child modelling application form
Below is some great feedback from model families and junior models who have recently had work through Models Direct. It's a great way to get an understanding on what it's like to be a working model.
The Bakshi Family – Model Fee: £200
Client: BBC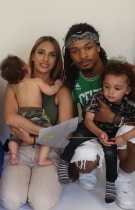 " My family's first experience with Models Direct was smooth & throughly enjoyable. My 2 young sons were chosen to do 2 days of shooting for a BBC series shot in the city. The communication before hand was efficient and thorough and the whole team on the day were extremely kind & cooperative… a treasured experience, my boys loved it! Can't wait to do more!" – The Bakshi Family
The Goldings family are currently on a shoot in France for a luxury travel company. The shoot is over 4 days, all expenses paid, being filmed while experiencing the incredible service and accomodation the travel company offer – check out Models Direct Instagram Stories for all the coverage.
https://www.instagram.com/stories/modelsdirect/
Myleigh – Model Fee: £265
Client: Invacare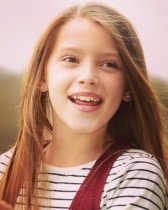 "Myleigh was booked for an assignment for Invacare. Molly contacted us to say the client wanted Myleigh and kept us in the loop the whole time regarding the licensing. Myleigh has been fortunate enough to have had quite a few amazing jobs from Models Direct. This has gave her the experience and the patience for the long days and what is expected from them. The clients were extremely happy with Myleigh and said "she was a natural, not at all nervous and didn't need to be directed", they asked her to do certain things and she was able to listen and perform in the way they required for the shoot" Myleigh enjoyed every moment of this assignment, she made good friends with her model mum and grandmother, she even got to eat birthday cake!! Models Direct and especially Molly the bookings coordinator has always been very supportive and it's an absolute pleasure to work with them again! "Thank you for another great day, doing what I love" – Myleigh
Check out the Friend family on a recent assignment, some great behind the scenes pics to give you a real insight into what it's like to work with chidren and family on a shoot – Look how much fun they had!
The Friend Family – Model Fee: £1800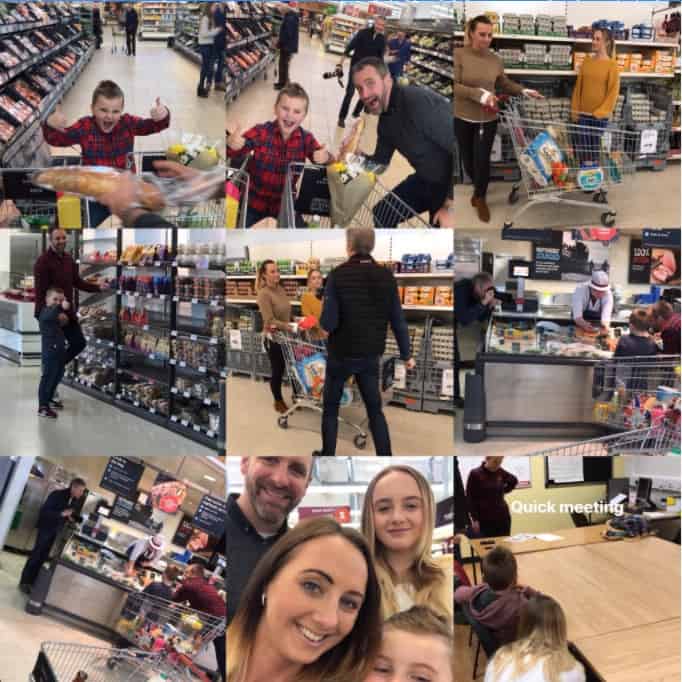 "We had started our journey around 6am knowing it would take 2 hours we arrived on time with two very excited children and 2 nervous but excited parents. We were put at easy instantly when meeting our photographer and the two other models from Models Direct. We went and had a quick meeting about what photos we were trying to achieve and quick change we were ready to go. The children were super excited about doing the shoot in such a a massive super store and loved that people were watching, the photographer was giving us great direction and was amazing at making us feel at easy. Always telling the kids they were doing a fab job . This was the first time we had met with other models from the company and they were brilliant so funny and talkative, the shoot went so well and the photos were just as the brief asked. We can't wait till the end of March for our follow up shoot and working with Models Direct we have done a total of 5 modelling shoots now and have always enjoyed our experience and making memories with our beautiful family." – The Friend Family
Model Freya is just one of the many junior models who has secured paid modeling work – think she's pretty deligted with her cheque!
Model: Freya – Model Fee: £100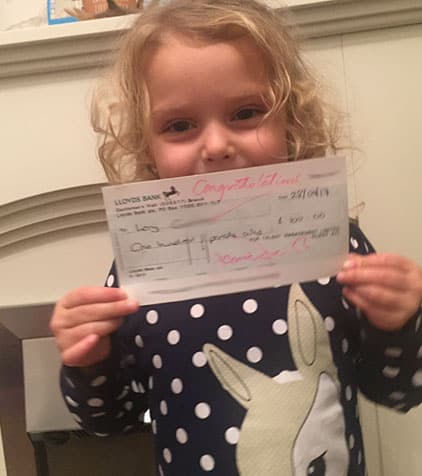 " Dear Marie and Models Direct representatives. We would like to express our gratitude for making our daughter's first ever assignment so enjoyable for us all, we really didn't know what to expect as this is a completely new adventure for our family. From the moment you rang us letting us know that Freya was shortlisted for the assignment until the actual photoshoot and beyond, we felt valued, reassured, comfortable and very well informed about the process step by step. When we arrived at the venue, there was a lovely representative of Models Direct that greeted us and the waiting room was very welcoming. The most important thing for us was that our daughter was happy with the photoshoot and comfortable in that environment and I can honestly say that she really enjoyed her experience. Everyone was so friendly and our daughter was full of smiles although your client needed a serious facial expression for their campaign :). We got there eventually! I cannot thank you enough for your professionalism as an agent and for choosing us to be one of the Models Direct models."
To talk to one of the Models Direct team today about your family or childrens potential in the industry – click here