As an aspiring male model there are things you can do to give yourself the best shot at succeeding in the modelling world.
The modelling industry is very competitive and although your agent like Models Direct, will do the best they can to promote you and secure you assignments with companies and brands, they can not be YOU on the day, so it's essential you know what is expected of you and how to make the best first impression, this is vital with agents and photographers!
Depending what area of modelling you want to get it into will demand different requirements.
Personality is a huge factor in this industry! It's a competitive, fast passed industry, photographers and brands don't want to work with negative, difficult and rude models – they often simply wont book you again. When meeting clients it's essential you have a positive vibe about you, lots of energy, are happy to take direction and have a strong work ethic! Anything worth having doesn't come easily and modelling can be long hours and hard work, so accept this!
Looks obviously play a big part, so you will need to think about this when deciding what type of modelling you'd like to be considered for. Commercial modelling agents like Models Direct will be looking for a friendly, natural, more accessible look, someone who is diverse and could pose as different people/characters. They will need to be attractive, but not necessarily on trend. Fashion modelling agents will be desire a very particular look from their models, they will work with trends and look for particular features  in a male model.
Height for a high fashion model is imperative, to promote brands on the catwalks their will be a very strict height criteria. This is not such a big factor in commercial modelling, as commercial agencies like Models Direct receive enquiries for male models with varying stats depending on the particular assignment. If it's for a commercial, corporate shoot, or TV extra, height is not often a big issue.
The team at Models Direct would always advise you to have  the best possible photographs you can on your portfolio, make sure they show you with a diverse look and able to create different looks.
Here's what one of our male models Luke had to say about a recent assignment through Models Direct!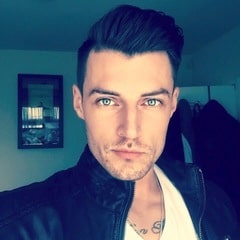 New friends
"Thanks to Models Direct I was given another assignment. I had a lot of laughs, fun with the other models & made new friends."
Luke