When you hear the word 'Modelling' it's very likely you imagine, catwalks, film sets and magazine covers……however this is not always the case! (often not!)
At Models Direct we supply models to a huge variety of clients in many different industries, from food to fashion, big brand stores, health services and many more!
Quite often our models are taking on a different role in the photo-shoot or commercial they have been booked for, they could be portraying a family member, doctor, nurse, office worker, patient etc – to be successful in commercial modelling you need to be adaptable and confident in your ability to take on a role and make it appear real!
The assignments team at Models Direct often work with with one of our regular clients; Ieso Digital Health who provide evidence-based mental health therapy online.
Recently 5 of our models were booked for a photo-shoot at a studio in Cambridge and were posing as therapists for an online campaign by Ieso Digital Health – below are a few of the final images.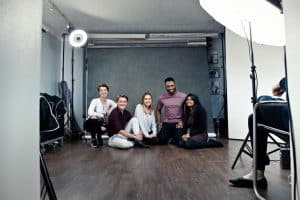 Some feedback from our model Denisa who was on the shoot with the rest of the team from Models Direct!