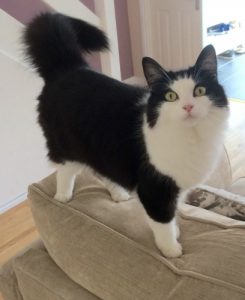 The demand for animals in advertising is big and growing all the time! With only seconds to capture your audience's attention, a witty comment or a cute animal works well!
We have all seen animals used in commercials for lots of different brands and high street stores. Buster the Boxer in the John Lewis Christmas commercial, McDonalds, Perina Dog Food, Whiskers…..the list goes on!
At Models Direct we also represent pets and recently had two of our model cats, Duchess and Bo on a photoshoot in London for a large cat food brand's social media campaign – we can't wait to see the shots!
Here is their feedback:
Model Fee: £600
"It was a really good day – there were initially three cats including Bocat, but he ended up stealing the show and the guys decided to use him for the majority of the shoots that day. He did really well and was very chilled, so we got loads of good stuff out of him! The team were all really accommodating and great to work with. Thanks to Molly at Models Direct for sorting it all out and making everything run smoothly."