What could be better than spending the day having fun, getting messy outdoors with your family and being paid for it??
That's exactly what our model family 'The Burtons' were selected for! The Models Direct Assignments team were contacted by a production company who were filming a promotional video for the NSPCC's latest campaign, the #Messathon looking for a model family to star in the video.
The Burton family were successfully selected and had to spend the day outdoors, getting messy and having fun while being filmed – what a lovely day! AND they were paid for it!
Check out their feedback video to see how they got on:
"It's been absolutely brilliant and the kids LOVED it!"
It's always great to see some behind the scenes shots from any Model Direct assignments, this crew look like they're having an amazing time!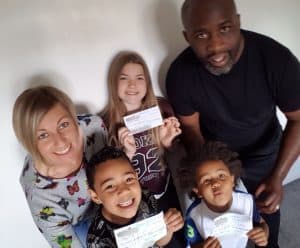 The Models Direct team would like to say a huge congratulations to the Burton family, a really successful assignment and you all did so well!
The final version of the Messathon campaign video is now live:
https://www.facebook.com/modelsdirect/