Female model Frances is a talented musician and model, she plays piano and guitar and writes her own music too, the Models Direct team were delighted to secure her this recent assignment RAC. Frances has a condition called Spina bifida, but doesn't let that get in the way of following her dreams!!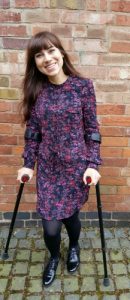 Model Fee: £250
Client: Motability/Kwik Fit/RAC
Model Feedback:
"I had the most brilliant day, led by a super-talented crew, and enjoyed watching from behind the scenes as much as being involved as the driver who had broken down!
Leading up to the actual day, I found myself picturing the shoot, well, guessing really. Imagining. My vivid imagination hadn't accounted for any possibility of the most beautiful blue skies; we happened to be filming on the warmest, clearest day of the month. Perfect!
This was my first assignment and, from being met at the station by Jacqui upon arrival, I can honestly say I enjoyed every minute! It was a joy to shoot scenes with Mark from RAC, reassuring to be clearly and patiently directed by talented Tom and his crew, all of whom answered our questions with a smile… and empowering to be sat in the driver's seat of such a stylish car! I was particularly interested in shooting the same scene again from different viewpoints, some very close up, some at long range.
Thank you Molly at Models Direct for your endlessly cheerful emails; you really enabled me to be fully prepared for yesterday. Thank you, too, for introducing me to close camera work with such great people, for a company that is so relevant to me. I can't wait for the next one!"
Frances clearly had a wonderful experience on her latest assignment and sent some fantastic #bts images fr the Models Direct team to see!