With the competitiveness of the modelling world today many models with disabilities are overlooked, however at Models Direct, our policy is to offer all our models the same opportunities whether they have disabilities or not!!
"Watching Noah's face light up when the cameras started rolling and when he placed the star on top of the Christmas tree really was priceless!" – Sainsbury's Christmas Campaign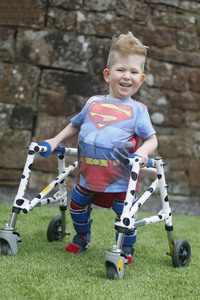 Models Direct are delighted to be able to represent models with a variety of disabilities, ranging from wheelchair users, amputees and other disabilities that may have held them back from being part of an industry they have always dreamt of!  However it's all possible and more than ever there is a demand in the modelling world for diverse models who represent such a large percentage of the worlds population.
Diversity in the modelling and fashion industry is discussed a lot in the media and progress has been made, however there is still a long long way to go! We have seen big brands using models with disabilities for their latest campaigns, River Island recently featured child models with disabilities in their SS campaign, along with other high street names and some models with disabilities have featured on high fashion catwalks – but are we doing enough??
There are approximately 11 million people in the UK alone with disabilities, they deserve to be represented in the fashion world. fashion is something that is available to everyone, an opportunity to create your own individuality and style, a freedom to enjoy colour, design and product that is practiced universally, people with disabilities should not be excluded in anyway.
This blog includes several of the models we represent at Models Direct who have disabilities. These models haven't let their disabilities stop them being put forward to big named clients nationally and Internationally, their determination to achieve their dreams is astonishing and we are proud at Models Direct to be called their agent!
Our Models Feedback
"Holly really enjoyed her day having her photograph taken. She was made to feel the centre of attention which she loved, so would definitely like to do this sort of thing again.
Holly had to pose as a customer with her 'mum' and visit a car showroom to choose a new car. She enjoyed sitting in the car and pretending to drive. The day has boosted Holly's confidence, as she just loves making people smile.
We'd definitely recommend doing this to anyone who asked, but you must be confident.  This is the first role Holly has had with Models Direct, and we hope it is the first of many more. This is something which holly could potentially consider as a career when she is older, if she decides to continue." – Holly's Mum
"Hi guys. My name's Kieron and I'm a model with Models Direct. I've been with the company now for 6 months and had quite a lot of interest. I've recently been to London for a huge shoot with a well known tech company. The staff at Models Direct are great. They're always there to give you advice, help, information, anything you need to know, they are there for you basically. It's brilliant, couldn't ask for a better team to be working with. See ya." – Kieron
Video (5) – Chloe's Feedback Video
"Thank you so much for supporting disability inclusion and always supporting my disabled modelling work .. As a freelance model I continue growing and working with Models Direct has been positive because they use real talent with real people that you can see in everyday life as working models and always put forward me for castings. Thank you. It was also nice to work with a child model who took on seeing and working with my disabilities positively!" – Nicki Donnelly
It is more important now then ever to celebrate our differences and include all shapes, ethnicity, race and ability in the media and the entertainment world. There are clients out there looking to book diverse models for their latest campaign or photo shoot, so if you feel you would like to be put forward to these clients and have agency representation in this exciting industry then visit the Models Direct website.