It's all happening – and you could be part of it!
Those in film and television can hardly contain their excitement at the recent news about the massive investment and huge expansion of their industry right here in the UK, and we at Models Direct are also riding high on the wave of glee that is rippling through everyone from production companies, film crews to screenwriters, editors and directors.
So why are we revelling in the fact that some £6 billion is being invested in the development and creation of cutting-edge new studio space?
What impact is it going to have on all those who work with us and for us?
The answer is simple – opportunity!
With new studio locations in the pipeline to be built across the country there will be a soaring demand for more people to appear in front of the camera.
The UK is predicted to have more studio space than Hollywood itself and with that will come a desperate need not only for more of the technical and creative staff who create TV programmes and film, but also actors, extras and models.
So, what should you do and how should you get yourself ready for a stab at the big time?
Well, now is the time to start preparing.
If you are serious about acting then join a school, college, university or local dramatic group to start honing your skills.
Getting out there on stage will boost your confidence and give you a true understanding of whether this is something for you.
Consider signing up for a few lessons, participating in a workshop or two and perhaps taking up other hobbies and pastimes that will build your self-assurance and give you other strings to your bow.
Try singing, learning a musical instrument, joining a dance class or engaging in a new sport or physical activity.
Modelling is a fantastic way of getting into acting – and the great beauty of it is that it is open to anyone.
At Models Direct we are always seeking models of all ages, backgrounds and body shapes to present to our wide range of clients for the very diverse requirements they have for their advertising campaigns and promotions.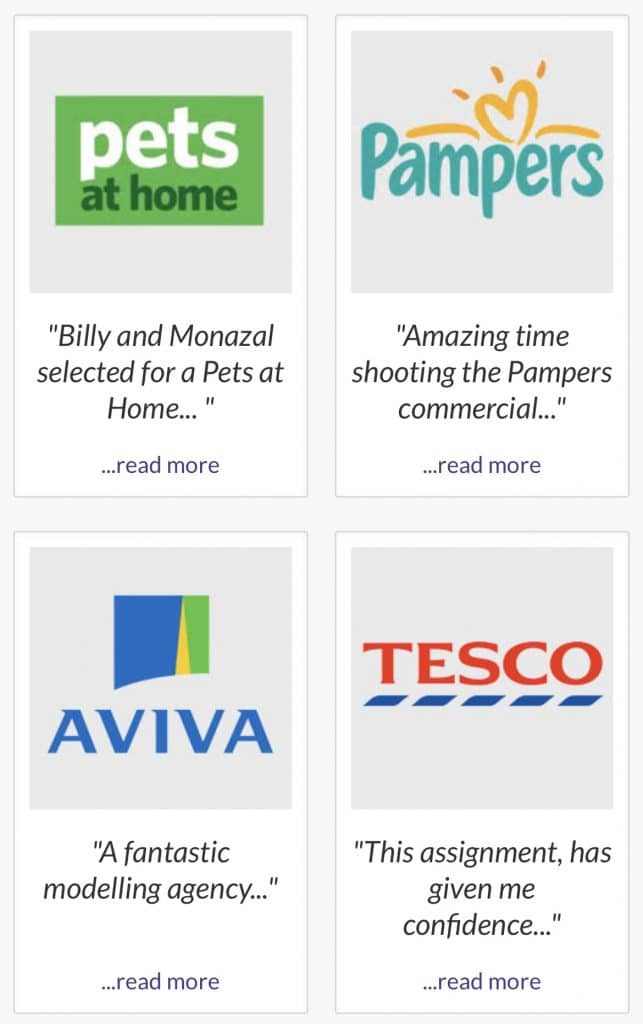 Click here to see just a few of the well known brands we have worked with!
Many, many well-known actors started out as models – Angelina Jolie, Channing Tatum, Demi Moore and Josh Duhamel to name just a few…
Stepping out in front of a camera, showing you have the confidence to perform and the ability to follow instructions, and that you work well with others on set, is an excellent first stepping-stone.
Many models then make a natural move into becoming TV and film extras – and over the coming months and years we are going to see a sky high demand for people to fill these parts. From becoming extras and taking on secondary roles, many then transition very easily into a whole range of acting parts for the big and small screen.
Of course, just as we have modelling assignments for a wonderful array of different people, from babies through to those in 60s, 70s and 80s, so there will be roles for everyone.
Just as our clients need models to represent members of the public from all walks of life, so the burgeoning British TV and film industry will also need all sorts of individuals for parts.
And that could be you!
Opportunity is knocking – and if you want to make the most of it, you need to take those very first steps towards it now…