Models Direct represent a variety of people with different talents! Aswell as models we are the agents for muscians, voice over artists, dancers, singers and actors – so the Models Direct Assignments team spend alot of time liaising and building relationships with production companies around the UK.
When signing your child up with  Models Direct it's every parents dream to hear their child has been successfully selected to star in a large feature film that will hit our screens in 2018!  That's just the call our Assignments Manager, Molly had to make to 8 parents of our selected child models!
The production company were also wanting 20-30 adult extras for the film, they would be acting as ship passengers as the film was set in the 1920's. They requested a mixture of age, looks and ethnicity and the filming was to take place in Southampton – the team at Models Direct set to work on sourcing the right people straight away!
The children were very excited and the families had been briefed by our assignments team for their two day shoot in Southampton – one child had more of an acting role as he had to pretend to be sea sick as the filming was to take place on a boat – he was so good the director actually thought he was the main actor's real son!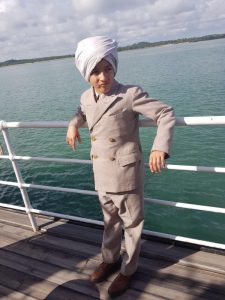 This is a behind the scenes pic of our model Saheel – what a star!!
All the extras were fantastic and loved their experience of working with a professional film crew – the Models Direct team were very proud and so loved seeing your feedback videos – to view these check out the Models Direct Facebook page.