Children make up a large aspect of the modelling industry, and we want to tell you all about it. Models Direct have a sound understanding of the modelling industry with 30 years of rich experience under our belts.
We have had many children aged 2 to 12 come through our doors with their parents or of course had a phone interview with one of our agents . With our model savvy agency's guidance, we connect them to our professional clients who are seeking junior models for their advertising and marketing purposes. Our agency has first-hand insider information about modelling. Models Direct extend this to our models to help them navigate through their new career. 
Let's talk more about the influential world of child modelling…
Children participate in commercial campaigns and promotional work such as featuring in children's fashion, education, health, wellbeing, hygiene, medicines, toys and travel insurance to name but a few areas. Whether or not those products or services have been geared towards them, they are excellent to include in the advertising world and commercials.
Children are relatable, cute, endearing and anchor something magical into the world of marketing. Take the Volkswagen commercial back in 2011, for example. It remains the most-watched Super Bowl ad of all time. It had a tiny kid dressed up as Darth Vader and a witty payoff. How about the humourous Doritos ads that regularly feature child models in them? Or even the DFS ad which I've seen plenty of times pass me by whilst driving – the one with the model dad lifting his superhero son into the air. That one would always bring a smile to my face.
Junior models' work ethics are just as professional as their adult counterparts. They have a natural flair for confidence, energy, showcasing expressions and giving it their all. Up for a new challenge, children thrive by achieving their goals and dreams. Modelling can be their stepping stone into other avenues such as acting, singing and entertainment.
Our partnership with our clients
We have a strong relationship with our clients regardless of the scale of their enterprise. Some of the larger clients we have supplied junior models to include: BBC, McDonald's, Disney, Jet2, TfL, Sky, Morrisons, Sainsbury's, Bluewater Shopping Centre and Pukka Pads. We have a great rapport with all of our dedicated clients where we have seen them come back for more models when need be. Models Direct continue to build on what we have with our clientele so that the influx of work continues to grow.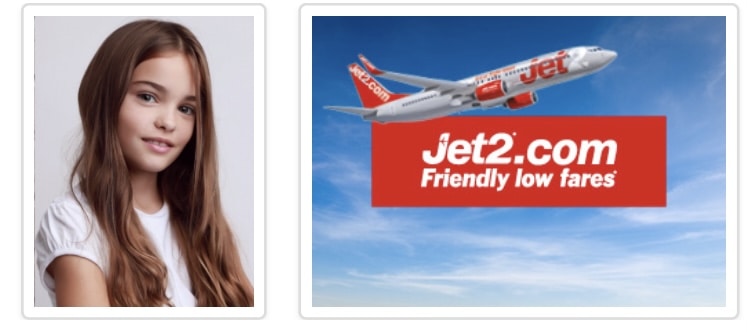 "Holly had a really great day doing the Jet2 new children's meals campaign, it was a good first experience for her. The shoot was very informal and all involved were extremely friendly and made us feel very comfortable. I hope Holly is able to have more experiences like this as she really enjoyed working with the other children and Tom the photographer was very friendly and put her at ease. Thanks for the opportunity and hope there will be many more in the future." – Holly's parent
Read many more of our successful junior model reviews here
Sign up with our agency 
If you want to learn more about how your child, aged 2 to 12, can model with our modelling agency then go ahead and read through our child modelling success recounts to get a greater insight into the ins and outs of our world. Our child models' reviews are positive, comforting and reassuring for those who cannot make their mind up whether modelling is right for their child.
Find upcoming fixtures and the latest modelling news all in one place by signing up to our current blogs and checking out our social media pages for info and inspo.